We're celebrating the launch of
Spy for a Spy
, sequel to
I, Spy
! Read on to get a cool spy tip for your daily life, free & discounted reads, and enter to win some great prizes! You can also find
Spy for a Spy
at the
special $3.99 launch discount
on
Amazon
,
Kobo
, and
JordanMcCollum.com
!
About the Book
Canada is probably the last place you'd expect to find an American spy. And
it was the last place CIA operative Talia Reynolds expected to run into fellow operative Brand Copley.
AKA her new boss.
AKA her ex-boyfriend.
Just the guy every woman wants to face in the middle of planning her wedding. Once again,
Talia's lying to the man she loves, but this time, to protect his heart.
After Brand takes over Talia's latest case and steals her newest agent, he assigns her to spy on her old boss—who's suddenly giving her every reason not to trust him. With only weeks until the big day, planning falls by the wayside as she goes into damage control mode. But
when Talia discovers Brand's real motives, fighting him is the only option, no matter what the personal and professional cost
.
More about Spy for a Spy | Add Spy for a Spy to your Goodreads to-read list!


Audience:
Adult (Clean)


Genre:

Romance Thriller


Length:

318 pgs

Rating: ***** (FANtastic Book that I LOVED)




Review: Upside--by signing up for the blog tour, I got a copy of SPY FOR A SPY early. Downside: It will now seem like forever before the next book is out. I am not patient. I hate waiting for books in a series. (Truth: I came into Harry Potter so late, I only had to wait for the last two books.)

But, the few week wait between I, SPY and reading this one was well worth it (and a drop of salve with the FREE prequel novella MR. NICE SPY!) Same great voice. Awesome action and awesome Talia. Slight Spoiler Alert *** I was a tiny bit disappointed that after what happened in the first book, that Talia still managed to justify lying to Danny about small things. I thought she'd learned, but it works out well and I'm pretty sure that now she's got it. ;) What I love about these books is the way the tension is built line upon line. Sheesh, the first person narrative is so riveting. I had no problem reading this book in a day and a half, it kept me so close to the page. Go. Read. Now.




Content:

Rated 1-5, 1 being minor instances and 5 being saturated

Violence - 2+ (Plenty of fighting and action, but nothing too graphic.)




Source: I received a copy of this book as part of the SPY FOR A SPY blog tour and in exchange for my honest opinion.




KEEP READING FOR AN INTERVIEW WITH AUTHOR JORDAN MCCOLLUM: Where I ask the really tought questions...
Hone your spy skills
Spy skills can come in handy in the most unusual situations, like this one . . .
Further hone your spy skills by reading
Spy for a Spy
!
About the author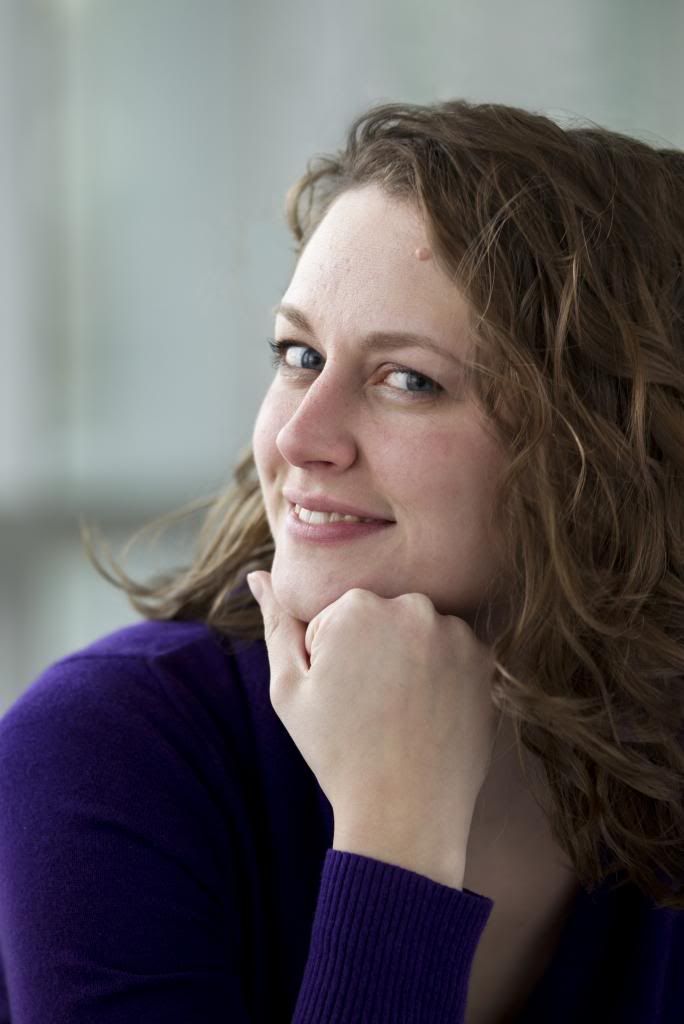 An award-winning author, Jordan McCollum can't resist a story where good defeats evil and true love conquers all. In her day job, she coerces people to do things they don't want to, elicits information and generally manipulates the people she loves most—she's a mom. Jordan holds a degree in American Studies and Linguistics from Brigham Young University. When she catches a spare minute, her hobbies include reading, knitting and music. She lives with her husband and four children in Utah.
Interview
Tell me about yourself and how you got started writing. What I really want to know is, were you a spy in a former life ;)?
Haha, no, I wish (sort of) (but not really). I've kind of always written, but some of my first real, independent creative writing projects came about as fanfiction. It's hard for me to admit this, but . . . my first fandom was
The Monkees
. True. After many years of that—and a long writing break to finish college, become an Internet marketing expert and start a family—a dream inspired my original fiction. You can read all about
my writing journey
in my blog series on the topic.
Everything worked so well and seemed so realistic in SPY FOR A SPY. What kind of research did you do and what kind of experience/experiences did you use to write the I SPY series? Where did your inspiration for the series come from?
Thank you so much! Funnily enough, my love of
The Monkees
indirectly inspired
I, Spy
. I was big into '60s rock and pop as a teenager (I was born 30 years too late, apparently). Just before Valentine's day last year, I heard a somewhat obscure '60s pop song, and old favorite,
while shopping for Valentines at the Dollar Tree
. I asked the writer's favorite question,
What if . . .
and
I, Spy
was born. To add authenticity, I did a ton of research. Which is cool, because I love research ;) . I read about a dozen CIA memoirs and histories, and I'm always reading more. The last addition to my library was a dissertation, an ethnography on CIA analysts by Bridget Rose Nolan. But when it came down to it, I still had to make a whole bunch of stuff up ;) . My favorite research exercise, however, had to be three weeks ago when I took a
Spy Escape & Evasion course
from former CIA officer Jason Hanson. I spent an entire day learning escape, social engineering and other spy techniques, and then I spent another day on the streets of Salt Lake City, evading surveillance and carrying out "spy" missions. When I arrived at the final rendezvous, having successfully escaped surveillance for over six hours (and having walked 10+ miles), I could have wept for joy . . . if I weren't so dehydrated ;) .
What are your personal tips and tricks for balancing the rest of your life (being a mom, etc) with writing?
Honestly, this novel has taken over my life for the last four months. I have no tips anymore. I use a to do list arranged by time of day (morning, afternoon, evening) and an accountability partner to get stuff done. I try to maximize bedtime and naptime for me, but I'm very committed to making sure my kids get to go out and do fun things. I may not be able to play with them every minute of the day, but I do try to make sure we get to go to museums or fun family activities regularly. Also, chores. Although chores have become a big fight in our family sometimes, I need my kids' help to keep the house functioning properly!
Lots of budding authors (like me) love to hear that How I Got Published or How I Got My Agent story. What's yours?
Once upon a time, I sent a novel to a publisher. And they rejected me. I spent over a year reworking the manuscript before I sent it back. And they accepted me! BUT when I got the contract . . . let's just say they weren't tears of joy. That experience helped convince me I would be better off publishing myself. So I founded my own company, as a commitment to publishing quality, hired professionals for cover design and editing, and learned a TON about ebooks, print book interior layout and more.
Most important of all: Favorite flavor of ice cream?
BYU Creamery's Earnestly Chocolate: milk chocolate ice cream, caramel and marshmallow ribbons, and mini chocolate-covered caramel cups. Second favorite: Subzero (liquid nitrogen ice cream) marshmallow and caramel flavored base with chocolate flakes (simulating See's Scotchmallow candies). But I'm always a sucker for plain ol' vanilla.
So much fun to hear Jordan's answers! Thanks, again!
Join the party & enter to win!
As part of the debut of
Spy for a Spy
, Jordan is co-hosting a launch party with Julie Coulter Bellon, author of
Pocket Full of Posies
.
Join us November 12 on Facebook
(
Jordan's
and
Julie's
pages)
and Twitter
(follow
Julie
and
Jordan
) for drawings throughout the day, and enter to win more fabulous prizes here!!
Special deals!
Spy for a
Spy
is a sequel to the novel
I, Spy,
available for 99¢ at Amazon, Barnes & Noble and Jordan's site this week only!
To save her country and her secrets, CIA operative Talia Reynolds will have to sacrifice the man she loves. More about I, Spy.
Also, as a free gift this week,
Jordan is giving out free e-copies of a prequel novella, Mr. Nice Spy
,
on
Amazon
and
her site
!