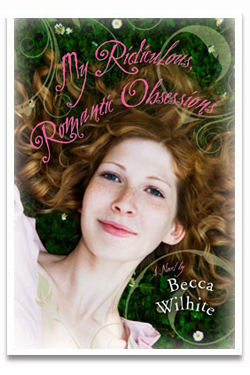 So honestly? This book doesn't need a whole review. It needs one word: fantastic. Except it worries me that you won't all run out and buy it on just that word. (Someday you'll all trust my impeccable taste enough to follow me anywhere.) But do go out and buy it. Like now. And while you're waiting for it to ship (if that's what you have to do), read the review.
The Point of the Plot
Sarah can't figure out why gorgeous, Greek god Ben would want to hang out with her. Seriously, he can't possibly like her romantically, right? She's been there before, done that. But she falls anyway and discovers she actually can be the heroine of her own romance novel.
Basically Believable **** 1/2
Four and a half stars, only because I keep arguing with myself. On one hand I find it difficult to believe that a girl can actually be that clueless about if a guy likes her romantically or not. On the other hand I'm Chel (the main characters patient, reassuring, fast-talking best friend) to my sister's Sarah. I think my sister could play Sarah in the movie.
Charismatic Characters: *****
They're amazing. Ben is hot and fabulous--yet still so cute, down-to-earth, and very lovable. And he's so--a guy. Becca totally nails him and his great reactions to Sarah. Sarah is hilarious; her inner thoughts in the narration are witty and amazing. She may be a bit dense when it comes to reading guys--or anything romantic for that matter--but she has a reason to. Chel, Sarah's best friend, completely balances out Sarah's cluelessness.
Yay or Yuck, The Final Word: *****
A resounding, echoing, fist-pumping YAY! "MRRO" is the perfect sit-down, melt-in-your-seat, sigh-in-contentment romance. I devoured it in about three days, which was too long. I loved Sarah's witty voice, some absolutely fantastic kissing scenes, and definitely the happily-ever-after, which I can't live without.
Favorite quote:
From Ben,
talking about spell-check
, "You mean all those red squiggles on my screen? I like them. They're so pretty."
Come back tomorrow for an interview with the author, Becca Wilhite!
Buy the book
here
.
Visit Becca Wilhite
here
.