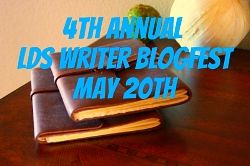 Did you know this about me? That I'm a member of The Church of Jesus Christ of Latter-Day Saints (LDS or Mormons, as most people know us)? I'd like to think that if you've hung around my blog for a while that you were at least suspicious. (I do have two sections of my Review page dedicated to LDS books and authors.)
How does it affect me as a writer? Hard to say. My faith is so ingrained in my day to day life I don't know how to separate it out . Perhaps it's the general good outlook my characters have. Maybe that I can't write dark stuff. Maybe the tendency I have, even in my non-LDS writing, to have characters pray in their scariest/loneliest/hardest moments.
I can tell you that being LDS has shaped the way I'm not pursuing my writing career. It all started with a BYU basketball player named Jimmer Fredette. Maybe you've heard of him? I thought to myself one day, "What would it be life to be his girlfriend? How did she end up dating him? How do you meet and start dating a guy like Jimmer?" And bam thus was born the idea for THE GAME PLAN, my current WIP. But, I thought to myself, I've read LDS romance, but not really comedy. Some were a little bit funny, but not really lighthearted...and then I discovered Melanie Jacobson's book NOT MY TYPE and realized that if I wrote THE GAME PLAN (which was titled MARRY ME, ANTHONY ROGERS at the time) it would have a home if I did it right. And I wanted to to it right.
Sometimes when I say my nightly prayers, I'll thank my Heavenly Father for this awesome talent he gave me. I've prayed for a clear mind as I edited, to know how to make it my best. And yeah, I prayed that when I pitched to editors at this year's LDStorymakers Conference that my mind would be clear and the editors would be open to my idea. Like I said above, it's ingrained by now. Prayer about my writing is natural, something I do without even thinking about how that might make me different from another writer.
If you have questions about me and my faith, ask them below! Or go to Mormon.org and find out all about Mormons, who might even be someone just like you. :)